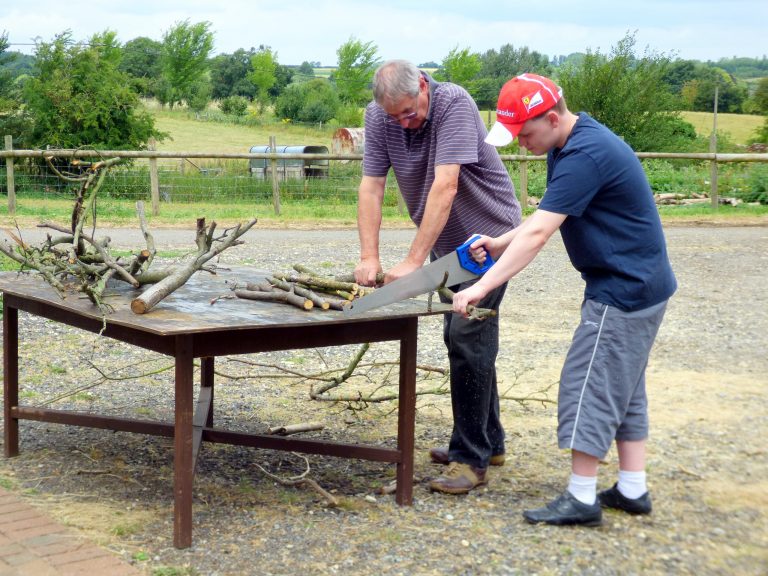 Share your Skills & Volunteer
Volunteers come to us from many places, either as individual or as groups. We have several individuals whose regular presence in our lives makes an enormous difference to the well being of the farm, staff & students, in many special ways; helping out on the farm at weekends, using woodwork skills to make 'kits' for the students to assemble ( eg reindeer & santas! ) being there as stewards on Open Days, offering specialist help from their own knowledge base for business planning, & creating wonderful photographic records.
We are also very grateful for regular help from organisations such as Nationwide, the Coop, Serco & the Masonic Foundation with jobs that may be too much for us to achieve by ourselves here such as painting, decorating, major garden tidy-ups before events.
We also much appreciate one off volunteer visits such as Vodafone and Zurich coming to help to paint a whole room on one day, or to plant a hedge. The help we receive may range from:
Gardening & Woodwork practical support
Out of school hours Animal Care
Conservation such as hedge planting & continuing care of hedges etc
Tidying for & helping out on open days
Painting and Decorating, Admin (eg filing & publicity support If you're interested in volunteering, please email us at pennyhooksfarm@gmail.com for a form
Help to Fundraise
You can help to fundraise by attending a Pennyhooks event such as our Open Days, Plant Sales, Christmas Fayres or special concerts. Buying our products (even including a piece of our home made cake!) at the events helps us to raise funds. You could also organise your own event or gain sponsors to help us. People in the past have organised a debate at University, ridden their bikes (to Lands End & even to Rome!), run the Ridgeway and climbed Mount Kilimanjaro to gain sponsorship for Pennyhooks.